One thing that never ceases to amaze me is when I arrive early to pick Kale up from school and see him and his six classmates all sitting in their little chairs, at the table, politely eating their lunch together. Mealtime is an entirely different story at home. Lately Kale has been refusing to eat at the dinner table with us for more than three minutes. He's up and down off his chair, trying to crawl onto my lap, and running circles around us all
(breakfast is a different story when he'll easily sit and eat for 30 minutes).
I thought that getting him more involved in the meal prep might help and so for this weeks 'Montessori Monday' activity we worked on table setting!
Activity:
table setting (practical life)
Age:
24 months
Materials:
place mat, permanent marker, napkin, utensils, plate, cup
Part 1: Recognition of Identity
Since we don't normally set the table, I wasn't sure how Kale would respond to this activity and if he'd understand the purpose. We started with all the materials in a bin and Kale was instantly curious. I showed him how to take each piece out and place it in the correct spot until we'd completed the setting. Then we put it all away, naming each piece as we went, before encouraging him to give it a try - which he was eager to do!
Part 2: Recognition of Contrasts
Once Kale had a chance to set the table and put things away
(and set the table and put things away and set the table and put things away, etc.)
I would put the fork on the outline of the spoon and ask "does this go there?" and he'd laugh and then show me where the correct spot was. Since our materials were so colourful, I could also ask "is this plate red?" when it was really blue. Kale is still working on his colours so half the time he'd say "yeah! red!"
Part 3: Discrimination between similar objects
Beyond the fork and spoon, there weren't really any objects that were similar enough to ask Kale to discriminate! Instead, I offer you a picture of a very proud two year old who can set the table all by himself:
So having Kale set his place at the table seems to have no impact on his apparent inability to sit at the dinner table for more than three minutes. It does, however, illicit the cutest grins of satisfaction that make me smile even when I'm saying "Kale, come and sit at the table, please!" for the four thousandth time!
As usual, I am linking up with Living Montessori Now for Montessori Monday! Be sure to check out others that have linked up for a bunch of great ideas.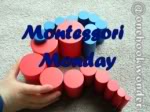 Link up's are awesome, right? I think so too! That's why Wendy from This Amazing Day and I are hosting our own "currently" link-up on Thursday's! Click
HERE
for more details!
Please help keep us listed on Top Baby Blogs by giving us a quick vote - I really appreciate it! Just click the banner below and then click the owl on the left to vote!