When Kale was about a year and a half, we bought him a kids work bench. It's full of screws and holes and hammers and screwdrivers - all good things for working on fine motor skills. For a long time, the work bench sat in a corner collecting dust. Kale has never been big on toys - he'd much rather get his hands on the real deal.
Over time, we collected more toy tools. I'm not always sure where they come from, but they do come. As Kale got a bit older and his imagination started to grow, he became more interested in the kids work bench. Unfortunately, at this point, we have too many mismatched screws and tools and Kale ends up getting more frustrated than anything when a hole is too big to hold a screw or the screwdriver doesn't fit. I know that I could take some time to sort through all the screws and tools, but I came up with a different idea .....
Montessori materials and philosophies really encourage the development of fine-motor skills. Think of all the
transferring with tongs
and
treading beads
and
working with lids
! This hammer and pliers activity was pretty simple - take a piece of styrofoam, pop in some golf tees, and offer some tools. Kale took one look at this and immediately got to work. The styrofoam offered enough resistance that he could actually take a few swings at the tee and had to use some muscle to pull the tee out with the pliers.
Look at the concentration on his face - I love it :)
If you're looking for more information about fine motor skills and Montessori materials - look no further. This is a great article that was a good reminder of how important fine-motor skills are and how there are so many things kids can do to work on them.
br>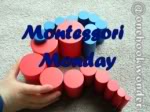 br>